K9 Owned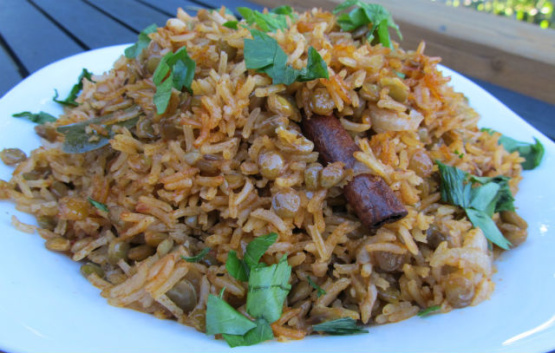 This is the Indian original, which inspired the classic breakfast dish known as Kedgeree. Made with basmati rice and small, tasty lentils, this will make an ample supper or brunch dish. From: The Inspired Vegetarian

Easy and delicious. Provides a lot of flavour with little work. I use brown basmati rice instead of white, for extra fiber and nutrients. Since brown rice takes longer to cook than white, I skip the lentil pre-soak and pre-cook steps and simmer the whole shebang for 40 minutes.
Cover the lentils or dhal with boiling water, and soak for 30 minutes.
Drain and boil in fresh water for 10 minutes.
Drain once more, and set aside.
In a large saucepan, melt the butter or ghee, with the oil, and fry the onion and garlic for about 5 minutes.
Add the rice, stir well to coat the grains in the ghee or butter and oil, then stir in the spices. Cook gently for a minute or so.
Add the lentils, stock, tomato puree and seasoning. bring to the boil, then Cover and simmer for 20 minutes, until the stock is absorbed, and the lentils and rice are just soft.
Stir in the coriander or parsley, and check the seasoning.
Remove the cinnamon stick and bay leaves.