Kitchenaid Honey Oatmeal Bread
Prep 1 hr 30 mins
Cook 40 mins
Posted per request. Comes straight from my KitchenAid Owners Manual.
Directions
Place water, honey, and margarine in small saucepan.
Heat over low heat until mixture is very warm (120-130°F).
Place 5 cups flour, oats, salt and yeast in mixer bowl.
Mix with dough hook on speed 2 (low) about 15 seconds.
Continue mixing, gradually adding warm water mixture and mix for 1 minute.
Add eggs and mix 1 minute longer.
Still on speed 2, add remaining flour, 1/2 cup at a time, and mix about 2 minutes, or until dough clings to hook and cleans side of bowl.
Knead on speed 2 about 2 minutes longer.
Place dough in greased bowl, turning to grease top.
Cover.
Let rise in warm place, free from draft, about 1 hour, or until doubled.
Punch dough down and divide in half.
Shape each half into a loaf.
Place in greased 8 1/2 x 4 1/2 x 2 1/2 inch baking pan.
Beat egg white and water together with a fork.
Brush top of loaves with mixture.
Sprinkle with oatmeal.
Bake at 375°F for 40 minutes.
Remove from pans immediately and cool on wire racks.
Most Helpful
This is fabulous, addictive tasting bread. Yum! This is the same review as Honey Oatmeal Bread for your KitchenAid Mixer since they are nearly identical) My whole family has gobbled it up which is wonderful! I had a couple of issues while making it though. At the end of 7 minutes of the kneading my KitchenAid overloaded and shut off.... never seen that happen before. I only used 6 cups of flour so I hadn't even put in the maximum amount. And... cooking it at 375* seemed way too hot an oven and I had to pull it out at 25 minutes leaving a bit of a doughy bottom. I think I'll cook it at 350* for 40 minutes next time instead. Otherwise - wonderful, wonderful and I'll make it again soon. Love it!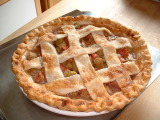 This is a great recipe, but it comes out a little dense unless you let it have a second rise in the pans. I baked 1 loaf right away and the other i let rise for an hour. The loaf I let rise had a fluffier texture, was larger, and is more suitable for sandwiches. Both loaves have a fantastic taste, and if you like denser bread, don't bother with the second rise!
I really like this bread. My only issues were that it didn't rise in the pan and was too crusty, even after putting it in the bag to cool. Next time I'll try baking it at 350 instead of 375. Thanks for posting!