Bergy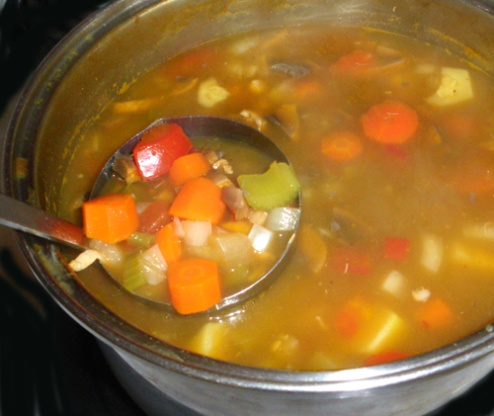 This is truly a clean-out-your-fridge soup. Use whatever leftovers you have on hand, and anything that needs to be used up. This is just what i did.

Top Review by Bergy
Love a "clean the fridge" soup. Mine differed slightly but I followed your suggestion for beef stock etc. I added leftover chicken, corn, 1/2 cooked potato, blackbeans, Onion, garlic, carrots and a bit of zucchini. For seasoning I used some Italian, pepper and "Spice Depot Hot & Spicy" - Great tasting soup. 6 servings and the fridge is empty of bits and pieces
Sauté onion, garlic and celery together until limp.
Add carrots, and sauté a few minutes.
Add in spaghetti sauce and stock.
Bring to a boil.
Add seasonings.
Add noodles, broken up, and peas and corn.
Boil until noodles are almost done.
Add red pepper and cook through.
Serve hot with buns.
NOTE: all seasonings can be adjusted according to what you are using. this is just how I used up my left overs. :).