Kitchen Sink Shrimp Salad
Derf2440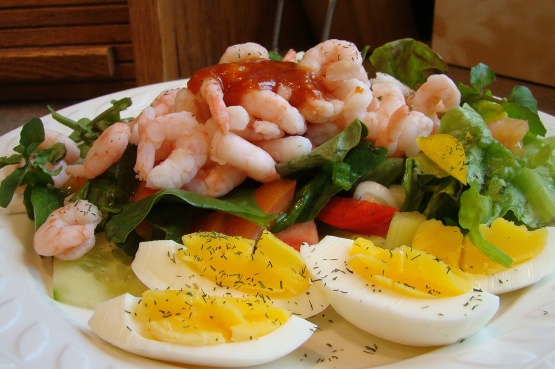 I created this salad when I wanted a simple shrimp salad that also used a lot of the vegies and fruit that I had in the refrig. This salad is very adaptable to whatever fresh fruits and vegetables are on hand. Recipe loosely adapted from All Recipes.

Well I hope this qualifies, it is definately kitchen sink shrimp salad!! I used butter lettuce, bits of red, yellow and green sweet pepper, celery, green onion, cucumber, diced tomato and a couple of chopped snap peas. but instead of the sour cream & mustard & orange juice I just placed the shrimp on top and put a spoon full of seafood sauce on top, with some garlic/balsamic dressing around the greens. Turned out delicious and used up a lot of bits and pieces left in the fridge, but no fruit, will have to try it with fruit too and will try the dressing too. Thanks for a great idea!! I will be doing this one again often!!
Combine shrimp, vegetables and fruit in large salad bowl.
Toss.
Mix together sour cream, mustard and orange juice in small bowl.
Add dressing to salad.
Toss well.
Add almonds to salad.
Toss.
Refrigerate until ready to serve.
If desired garnish with sliced strawberries.