NELady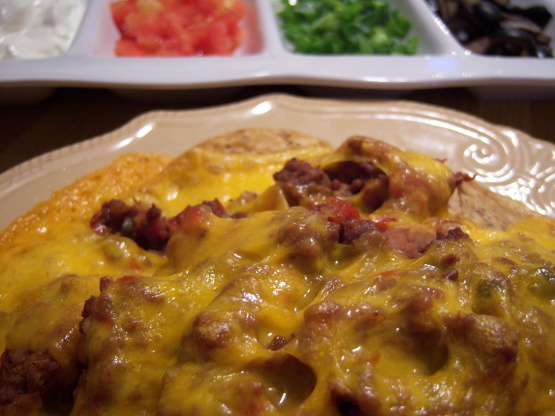 This recipe is great for using up leftovers, or cleaning out the veggie bin of your refrigerator. Whenever we have leftover pinto beans, the kids look forward to having nachos. Our favorite toppings include grilled chicken, peppers, mushrooms, sour cream, and black olives.

We loved these. I was kinda lazy so I put everything in my food chopper(green onion, red bell pepper, and onion). Since it pulverized everything, I used tomato paste for the tomato. Were great, kinda like a thick salsa. Also used a monterey jack-cheddar blend. Didn't take a pic as I thought it LOOKED kinda bad- but now I realize I should've because it was GOOD.Made these the last night of ZWT5 for The Groovy Gastrognomes & Family Picks.
Arrange tortilla chips on platter.
Top chips with shredded cheese, and place in microwave. Heat on high for 20-25 seconds or until cheese is melted.
Heat olive oil in pan on med-high heat, add veggies, cumin, and pepper flakes. saute until desired doneness, add chicken to heat through. Remove from heat.
Spread veggie mixture over chips.
Top with additional cheese if desired, sour cream and additional toppings.