DuChick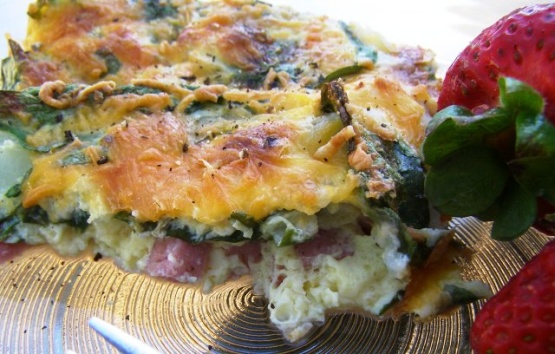 I call this "Kitchen Sink" because it really will absorb just about anything you have on hand -- be creative! Just about any cooked meat or sausage works, and you can add extra vegies or leftover potatoes (cut bite-size). Any choice of cheese works, too -- just use your imagination to choose seasoning accordingly. Depending on what cheese and meat is used, this can also be very low calorie. And so EASY. Sometimes I combine the meat with everything else, then serve at room temperature in small squares as finger food at a party or picnic.

A nice surprise! I was a bit skeptical since there wasn't any liquid included, but the dish came out very moist and tasty! It was rather flat, but that could be helped with adding other veggies. I wanted to make this as healthy as possible, so I used ff cottage cheese and ff cheddar shreds, turkey ham and fresh spinach. I also added some chopped onion. I used a square glass baking dish since I halved the recipe too. Very versatile recipe! Thanks Meredith K! MERP'd for Heatlhy Choices tag.
Preheat oven to 325°.
Thaw spinach, and squeeze out as MUCH moisture as possible.
Beat the eggs in medium bowl.
Stir in the cottage cheese, grated cheese, spinach and seasonings; stir until mixed thoroughly.
(Note: Seasoning depends on choice of cheese& meat. E. g. for Swiss w ham or chicken, use 1/4 tsp. nutmeg; for cheddar or jack w/ anything, use cumin, oregano and chili powder, or Italian seasoning.) Lightly spray glass 13x9 pan w/ olive oil or PAM.
Distribute meat/chicken/ham (whatever1) evenly over bottom of pan.
Pour cottage cheese mixture over meat; push w/ spatula to distribute evenly.
Top with extra grated cheese if desired.
Sprinkle top w/ toasted wheat germ.
Bake 45-50 minutes, until set and slightly brown at edges.
Let sit a few minutes out of oven before serving.
Serve hot or at room temperature.