loof751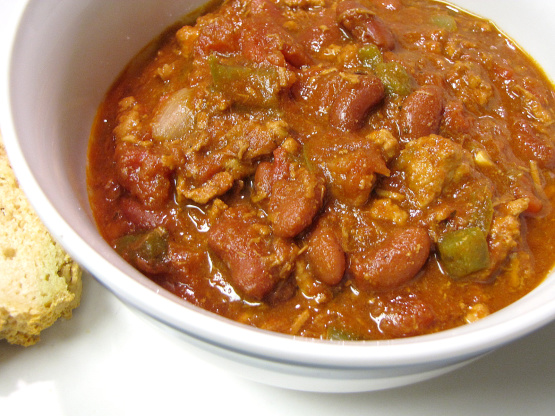 I love to throw a lot of stuff in my chili, and this is the best I have ever made. I think it's sweet, savory, and (mildly) spicy at the same time. If you want more heat, double the chili powder, add hot sauce, more cayenne, or use several jalapeños (or do all three, if you're adventurous!) If you can't get your hands on espresso, use a very dark roast and make extra-strong coffee. Sometimes, if I'm feeling lazy, I'll measure out 2TB of cocoa powder, instead of putting in the chocolate. If you like yours a little more soup-y, add some broth.

This is a great chili! Made just as directed, using ground turkey, and simmering for about 5 hours as you suggested at the end of the recipe. Rich flavor, rich color, a bit spicy but not overly so - loved it - thanks for sharing the recipe! Made for Fall Pick-A-Chef 2011
Heat the olive oil in a large dutch oven, on medium.
Add the onion and pepper, and saute until the onions are starting to turn translucent.
Break up the beef and add it to the dutch oven.
When about half of the meat is browned, add the jalapeño and garlic.
Continue to cook until all of the meat is browned. I usually use ground turkey or very lean beef, so I don't bother to drain it. But, if you want to, now is the time to drain off the fat and oil.
Add the diced tomatoes, kidney beans, brown sugar, bay leaves, and marinara sauce and stir.
Stir in the Worcestershire sauce and espresso.
If you prefer a thick chili (like me), add the tomato paste.
Stir in the chocolate, coriander, cumin, cayenne, and chili powder (that's a lot of c-words!). Cook for at least 15 minutes. After the 15 minutes, add more chili powder (or cayenne, or hot sauce) if it isn't spicy enough for you.
Add the oregano in the last 5 minutes of cooking so that it doesn't get bitter.
This, like most chili, is better the next day, or when it's been simmering all day. And you have only one pan to clean!