luvmybge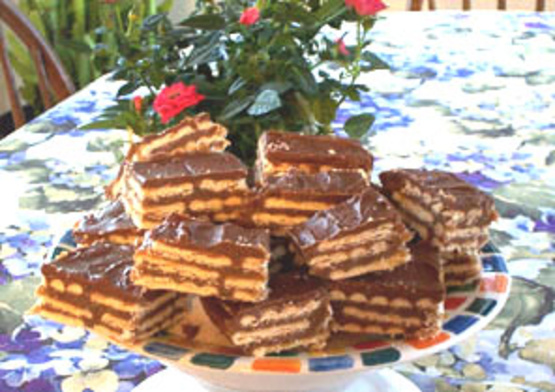 Recipe by request. Haven't tried it yet but sounds so yummy!

These are definitely one of my favorites. I don't add the graham crackers until after I boil the butter, sugar, and milk. Also I use 1 cup peanut butter and 12 oz. chocolate chips for the sauce. That is the way my family enjoys it the most. Easy recipe and real treat.....for all ages.
Coat 13x9 pan with vegetable oil spray and line with a single layer of crackers.
Combine butter, sugars, graham crumbs and milk in saucepan bring to boil over medium heat.
Boil 5 minutes.
Pour 1/2 of sauce over layer of crackers.
Cover w/ another layer of crackers.
Sauce layer and place 3rd layer of crackers over sauce.
In medium saucepan combine chocolate, butterscotch and peanut butter until smooth.
Pour over top layer of crackers.
Refrigerate until sauce is hardened.
Cut into squares.