Pamela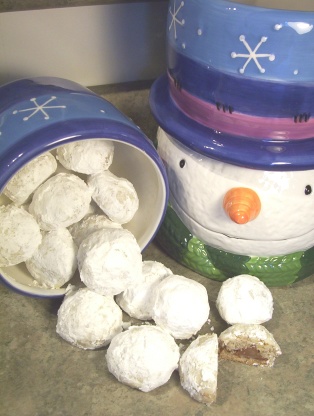 These melt-in-your-mouth cookies have a surprise inside! Our favorite cookie, anytime, but I always make these at Christmas. So easy to make and your young ones will love helping.

I gave this 3 stars. I liked it and the look was very good. I was disappointed that my hershey kiss did not melt and kept it's shape. I thought it would have melted and stayed melted. My future hubby suggested I try wrapping some dough around peanut butter. I think maybe I'd like to try a reese cup. Next time I make this I'm going to use a different dough as I would like to see the cookie softer. I'm using Cherry Snowballs #161704 . It makes a soft buttery dough. Thanks for posting a good recipe. Christine (internetnut)
Preheat oven to 350°.
In large bowl, combine butter, 1/2 cup sugar and vanilla; beat until light and fluffy.
Add flour and pecans; mix until dough forms.
Chill dough for 30 minutes.
While dough is chilling, remove wrappers from chocolate kisses.
Mold one scant tablespoon of dough around each chocolate kiss making sure it is completely enclosed in the ball of dough.
Place balls on ungreased cookie sheet about 1 inch apart.
Bake at 350° for 10 to 15 minutes until set and bottoms of cookies are just beginning to slightly brown.
Carefully remove from cookie sheet; place on wire racks to cool for 10 minutes.
Roll cookies in powdered sugar.
When completely cooled, re-roll in powdered sugar.