Kish's German Fried Potatoes
diner524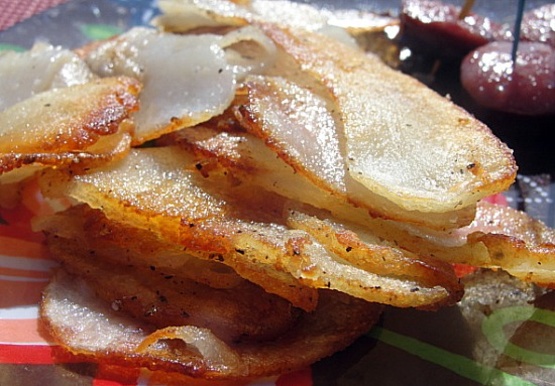 I found this on kitchenproject.com. I'm posting it for ZWT 6. German
I made these to go along with some glazed smoked sausage bites for mine and DH's lunch today and it was a perfect match!!! I loved the added flavor of bacon to the potatoes. I just added a bit of sea salt and pepper and that was all they needed for us. Thanks for sharing the recipe. Made for your win in the football pool, congrats!!!
2

cups potatoes, cooked (See note at bottom)

6

slices bacon, chopped
salt, pepper, and paprika to taste
Cut up 6 slices of good thick smoked bacon. Put in pan till halfway cooked. Add 2 cups diced or thinly sliced potatoes. Cook until nicely browned. Season to taste.
If you do not want the bacon with the potatoes, simply remove them after they are cooked and then add the potatoes to the bacon grease.
Note: Boil potatoes in water till fork tender. You may keep the skins on or simply peel after they are cool enough to handle.
Boiled potatoes and raw potatoes have a different taste when they are fried. I love them both, and it's your own personal preference what you choose.