Kipper's Sandwich for 1 Dictated by -- Tasty Dish--
Nif_H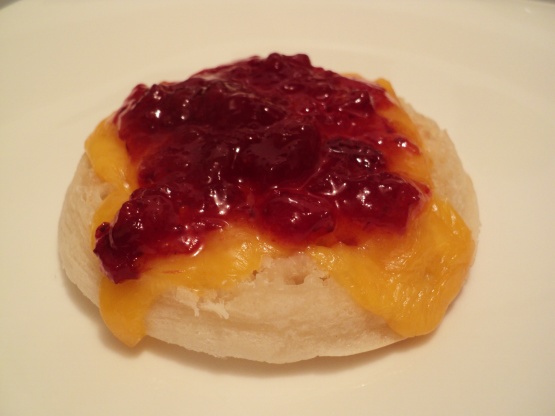 No, no! Heaven's no not [that] kipper (herring)! This is Tasty Dish's version of Kipper the Dog's and Tiger's picnic sandwich (at least from what we've been able to ascertain) Kipper and Jake go on a picnic and Kipper eats cheese sandwich while Tiger's enjoys his jam sandwich..or something to that effect. Use your child's favorite type of cheese and bread and favorite jam flavor. We tried Tillamook cheddar cheese slice and Dave's Killer Bread 'Good Seed'-both made here in Oregon. Conveniently, my homemade strawberry jam I made back in July was a winning combination with the cheese and bread.
1

slice cheddar cheese (or imported English farmhouse, etc. I tried mine with the latter and it was mighty good!)

2

tablespoons jam (your choice flavor)

2

slices bread (wheat, crumpet, multigrain, etc.)
Optional: You can make a melted cheese sandwich if you prefer. Prepare the sandwich as below in Steps #2 and #3. Melt some butter or butter/oil in a pan and brown the sandwich on both sides until golden.
Take the slice of cheese and place on one slice of bread.
Spread the jam on the other slice of bread.
Put the two slices together and cut in half or quarters.
Variation: use a cookie cutter (dog, pig) to cut out the bread slices in desired shape.