King's Hawaiian Bread (Copycat)
lilac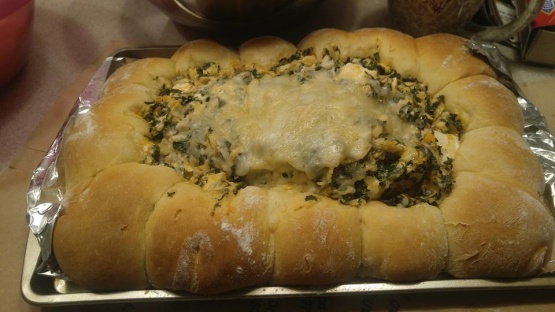 We absolutely love this bread. My sister won't buy anything but. It's kinda expensive so when I came across this, I had to add it here so we (Mom, Chris, and I) could always have it and everyone else could enjoy it too. The first time I ever had it, it was with the Spinach Veggie dip...OMGOSH it was DEEEVINE! So...next time you don't wanna spend the money, whip it up yourself! It does take a while...but so worth it!

This is soooo good! I will say that the dough is very hard to work with and that I normally have to add more flour at the end than the recipe states. Also, I agree that it isn't quite the same sweetness as the store kind but after adding about 2-3tbsp of honey to the dough, it was spot on. Thanks for the wonderful recipe!
Beat the eggs. Add the pineapple juice, sugar, ginger, vanilla, and butter.
Place 3 cups of flour in a large bowl. Stir in the egg mixture until well-combined. Sprinkle in the yeast, one packet at a time, and mix.
Add the remaining 3 cups of flour and mix in . Blending with a spoon will be hard, so you may have to use your hands. Make sure it is thoroughly combined. Cover the bowl with a cloth and set in a warm place to rise for 1 hour.
Remove from the bowl and knead in 1/2 cup flour. Knead about 10 times. Divide into three equal parts.
Place in greased and floured loaf pans or shape into rolls. Cover and place in a warm place to rise for 1 hour.
Bake at 350 degrees for 25-30 minutes or golden brown.