Kingofeverything's Breakfast Special
Bergy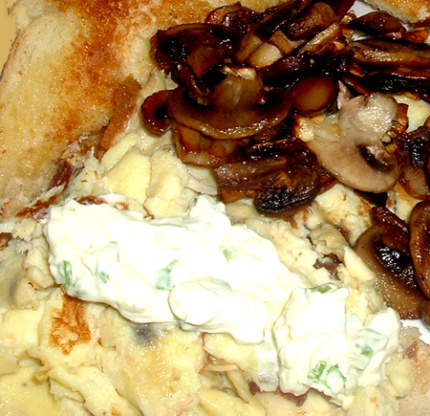 My DH makes these awesome eggs for us whenever he has a day off. Big hit with our toddler!

Top Review by Bergy
I cut the recipe back to 2 eggs, substituted bacon for the ham-delicious. I don't microwave but placed the creamcheese/peppers in a small dish on my plates while I was warming them in the oven - I can see why they are a big hit with your toddler - They were a big hit with me too. I served them with Garlicky Mushrooms & toast Thanks for a lovely Sunday Brunch QueenofEverything
Beat eggs with milk, salt& pepper.
Melt margarine in pan and add chicken and ham; sauteeing until warmed through.
Add egg mixture and use your preferred method of scrambling.
Meanwhile, combine cream cheese and chiles in a microwave-safe bowl.
Heat cream cheese mixture for 1 minute and serve as a condiment with eggs.