King and Prince Oatmeal Raisin Muffins
Calee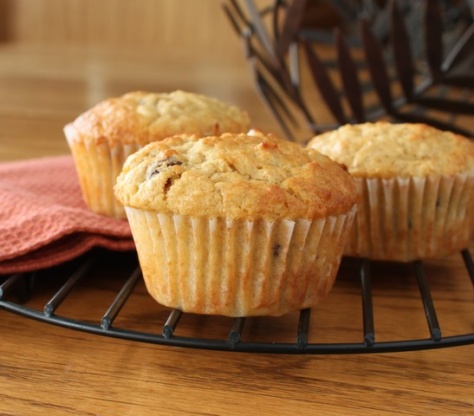 Spent my honeymoon at the King and Prince Resort on St. Simon's Island, Georgia. (I remember the AWESOME muffins, but would like to forget the husband!) These are moist and filling.
I just made these this afternoon and can't leave them alone. I did make minor changes. Used 2% milk with a teaspoon of lemon juice instead of buttermilk, 1/2 cup crasins in place of the raisins and 1/2 cup walnuts and added 1 teaspoon cinnamon. They are (were) wonderful!
Fill muffin tins with paper baking cups
Combine oats and buttermilk in a bowl, let stand for 1 hour.
Add eggs, sugar and butter, mix 30 seconds, scrape down bowl.
Combine dry ingredients, add.
Add raisins.
Mix on low speed for about 15 seconds or only until dry ingredients are moistened.
Fill muffin cups half full.
Bake at 400 degrees for 15-20 minutes.