King and Prince Oatmeal Raisin Muffins
Calee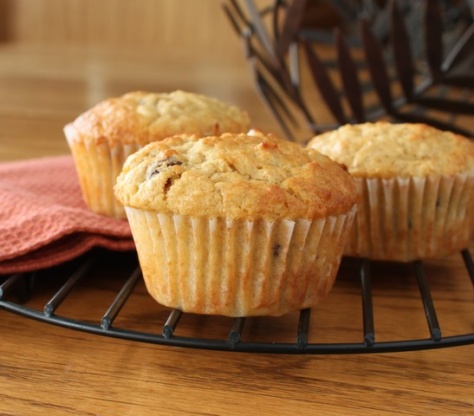 Spent my honeymoon at the King and Prince Resort on St. Simon's Island, Georgia. (I remember the AWESOME muffins, but would like to forget the husband!) These are moist and filling.
Great basic recipe -- using what I had on hand, some changes were made: used 2% milk with vinegar as a replacement for buttermilk, vegetable oil for butter, added a little pumpkin pie spice for extra flavor. My raisins had gotten dried out, so substituted craisins and chopped dried apricots. Even with these changes, the flavor was super. Next time will try will raisins and see if they are also very good.
Fill muffin tins with paper baking cups
Combine oats and buttermilk in a bowl, let stand for 1 hour.
Add eggs, sugar and butter, mix 30 seconds, scrape down bowl.
Combine dry ingredients, add.
Add raisins.
Mix on low speed for about 15 seconds or only until dry ingredients are moistened.
Fill muffin cups half full.
Bake at 400 degrees for 15-20 minutes.