Kinda Like a Stubbs Sandwich
Nimz1466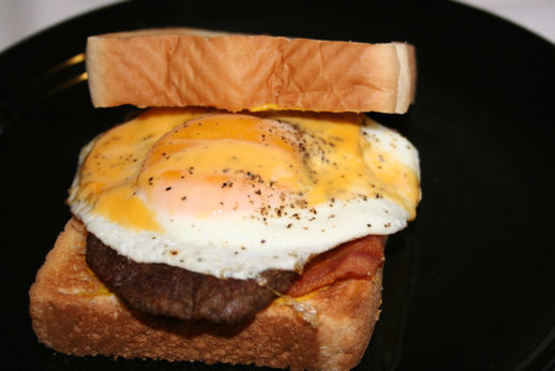 This is my version of "The Stubbs", which is a breakfast sandwich named after former Dallas Cowboys player Daniel Stubbs, and is from the Coppell Deli, which became a Dallas, TX mini-legend in the early to mid-1990s as the favorite breakfast place of several Cowboys players. We usually eat this as dinner, as these sandwiches are pretty big...just like everything in Texas!
In a hot frying pan or electric skillet, cook sausage patties; set aside and keep warm.
In hot frying pan, electric skillet, or microwave, cook bacon; set aside and keep warm.
Fry eggs, in same pan if desired, until yolks are cooked.
Place slice of cheese on top of each egg to melt slightly.
Assemble on Texas Toast in this order for each sandwich: 2 slices bacon, 2 sausage patties, 1 egg.
Enjoy!