Kim's Tex-Mex Egg Cups (South Beach Diet Friendly)
Kim D.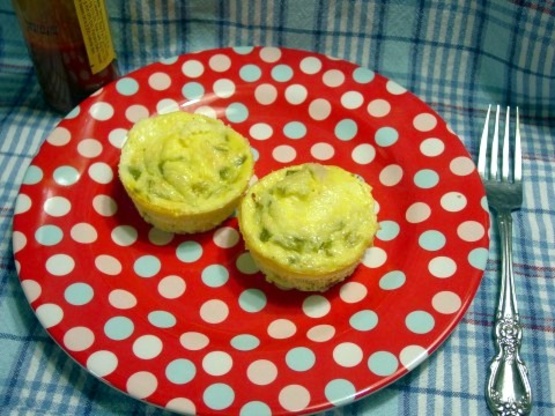 I've often put shredded cooked chicken in my migas or breaksfast tacos, so when I started the South Beach Diet I came up with this recipe. The egg cups can be made ahead of time and refrigerated, then heated just before serving. I like mine topped with Cholula hot sauce!

You know there are just some recipes that you want to smack your head and say "Why didn't I think of that?" Really liked this recipe, however I did make some changes. 1.Used Monterey Pepper jack cheese instead of plain Monterey jack cheese. 2. Used season salt, because mine has garlic in it. 3. Not a huge fan of chicken for breakfast so I did some with chunks of ham and some with chunks of beef breakfast patties (similar to sausage patties but made with beef). This will make some quick breakfasts for my hubby and me for the upcoming week. I will come back and edit the review if they don't hold up well in the refrigerator, but I doubt that will be the case. Thanks Kim D for sharing.
Spray muffin pans with non-stick cooking stray (Such as Pam).
Preheat oven to 350°F.
In a large mixing bowl, beat eggs with a whisk.
Add cottage cheese, Monetery Jack cheese, green chiles, salt and pepper.
Mix until well blended.
Add chicken and stir until combined.
Spoon 1/4 cup of egg mixture into each cup.
Bake for 20 minutes or until done.
Take a knife and loosen the cups from the pan.
Turn egg cups out onto a wire rack and let cool slightly before serving.
Eat eggs warm out of the oven, or refrigerate for later use.
EGGS DO NOT FREEZE WELL! Eggs become spongy and wet when frozen!