Kim's Savoury Rice (Microwave)
Ninna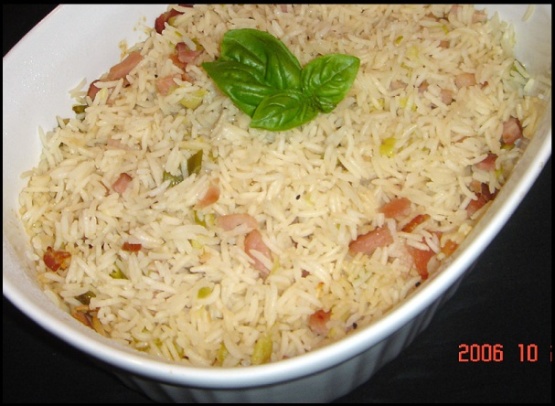 This is just so good and so easy. I serve it with BBQ's for a crowd frequently. Servings are approximate, as I usually serve this with other sides. My microwave is 1200w and it takes 15mins.

What a lovely side dish! I chose to make this as one of my sides for Easter dinner, and the family loved it. (Even my picky DS who claims to not like rice!) Thanks for posting, Ninna!
Melt butter in pan, saute onions, shallots, bacon and pine nuts 3-5 minutes.
Move to a large glass bowl; add rice and stock.
Cook on high power, covered 18 - 20 mins (depending on power), stirring every 5 minutes or so.
Stand 5 minutes.
To reheat; From cold 5 - 10 minutes.