Kimmy's Chocolate Guinness Cake
PumpKIM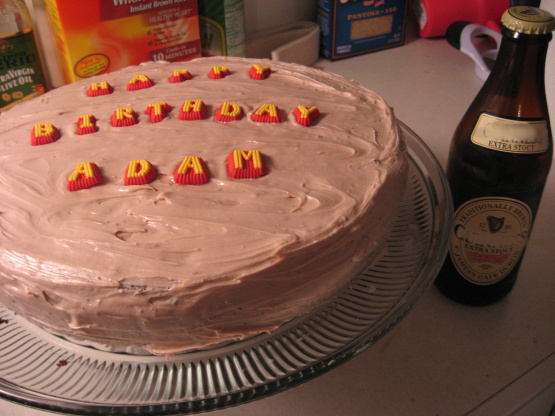 I needed to bake a special birthday cake and came across a recipe for Chocolate Guinness Cake. Everyone went nuts over it, but I felt it would be better as a layer cake, so I've doubled the recipe. This cake comes out incredibly moist and flavorful! :)

Fabulous 5 star recipe. I didn't change anything about this recipe other than to make only 1/2 of it. I baked two 6.5in cakes and 6 cupcakes. I frosted them with chocolate cream cheese frosting. Although my hubby is a Guinness fan, I must say I could not taste it ... thank goodness. But, what a chocolate flavour. Thank you.
Heat oven to 350 degrees.
Butter (2) 9-inch springform pans.
In a large saucepan, combine Guinness and butter. Place over medium heat until butter melts. Add cocoa and sugar. Whisk to blend.
In another bowl, combine sour cream, eggs and vanilla; mix well. Add to Guinness mixture. Slowly incorporate the flour and baking soda, and whisk again until smooth. Divide into the two buttered pans, and bake until risen and firm, approximately 45 minutes.
Place pan on a wire rack and cool completely in pan. Meanwhile, stir in a bit of cocoa powder to the vanilla frosting. Once the cakes have cooled, remove from the pans and frost the top of one of the cakes. Place the other cake on top and complete frosting the entire cake.