Nif_H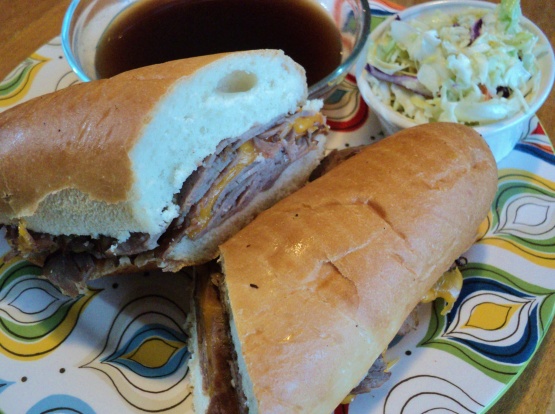 Roast beef and cheddar cheese were quite content enjoying the high life with their friends, au jus, chives, and sour cream, at a local restaurant in Auburn, Washington. When all of a sudden the restaurant changed owners, and their familiar friend, chives, moved away and green onions started to make a regular appearance. Now as devine as green onions are, it just wasn't the same magic to the tastebuds as when chives were in town. So the gang went on a mission to find a new place to call home. That is when they remembered their good friend, KimmieCat, always appreciated their pumped up French Dip soiree, so they went to KimmieCat and asked her if they could sponsor their original ensemble. KimmieCat said "of course, I have always loved your sandwich and really appreciate how you can either be a meal or be placed on a roll and make an awesome appetizer. Can I share you with my friends at food.com?" asked KimmieCat. "Of course said the gang, we hope the foodies at food.com appreciate our entourage as much as you do."

Top Review by Nif_H
We really enjoyed this tonight! My husband and I enjoyed the sour cream and chive spread and the kids just had mayo on theirs. I liked mine put together like a sandwich but open-faced seemed to work too. 5 of us had this for dinner tonight and we still have a lot of roast beef left - there was probably enough to feed 8 people. I served these delicious sandwiches with some homemade coleslaw. Made for Went To The Market tag game. Thanks KimmieCat! :)
2

lbs roast beef, deli slices (more or less for personal taste)

4

slices cheddar cheese (more or less for personal taste)

4

hoagie sandwich buns (or 8-10 dinner rolls)
1⁄2 cup sour cream (more or less for personal taste)

3

tablespoons chives, minced (more or less for personal taste)

1

cup prepared au jus sauce (more or less for personal taste)
Simmer au jus sauce to warm to desired temperature. Keep warm until ready to serve.
Mix chives into sour cream, and spread on bread slices. Split cheddar slices in half if using as an appetizer. Add cheddar slices and roast beef to each sandwich/roll.
Broil the sandwiches open faced to desired crispy-ness.
If serving as sandwiches, it is easier, to cut in half. If serving as appetizers, there is no need to cut the rolls in half as long as the au jus containers are a little bit wider than the rolls.
Divide au jus in separate ramekins. Best if served immediately. If enjoying as appetizers, it might be better if kept in a warmed chafing dish and/or if the rolls are wrapped in foil.