Kimchi Salad Aka Quick Kimchi
teresas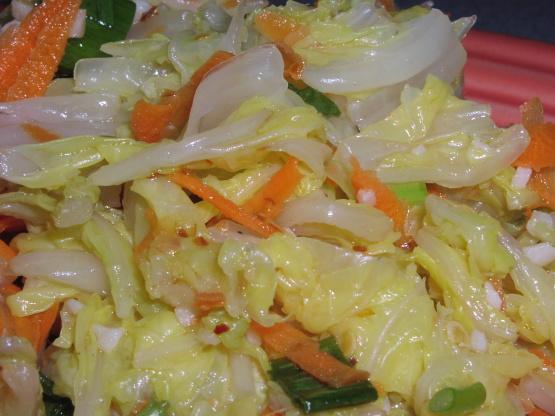 Traditional Korean kimchi requires long preparation many steps. This recipe brings all the great flavors of the classic to a dish which is quick and easy to prepare. A word of caution, while kimchi improves over time, this version does not so don not let it rest for longer than stated.

THIS WAS DELICIOUS. QUICK, EASY, AND LOW CARB.I WILL MAKE THIS AGAIN, THANKS FOR THE RECIPE.
Combine cabbage, garlic and water in a large saucepan and bring to a boil over high heat. Reduce heat to medium-low and cook, stirring once or twice, until tender, 4 to 5 minutes.
Meanwhile, whisk vinegar, oil, ginger, salt, sugar and crushed red pepper in a large bowl.
Add the cabbage, scallions and carrot to the bowl and toss to combine. Refrigerate for about 25 minutes before serving.