Kimchi Pancakes (Kimchi Jun)
Mika G.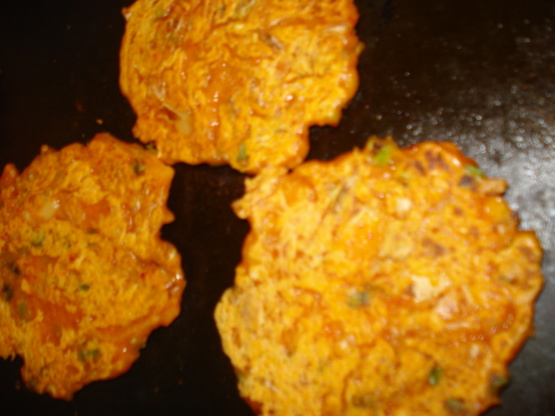 I buy kimchi by the gallon at our local Korean market, but you can even buy it at Walmart on the fresh vegetable isle. These are great as a snack or part of a Korean dinner. Be sure to dip them in a good soy sauce dipping sauce! YUM!

This was surprisingly delicious. I changed a bit by combining two recipes, but this was my predominant one. I used one third corn starch rather than all flour to get these crispier, and added some chicken breast franks to make them more a main dish than a side. I didn't have kim chi, but I used a home made spicy pickled cabbage I'd had in the fridge from some hair-brained "make me this cause it's like deep space nine" recipe my husband wanted to try then didn't care for. ;-) Will definitely be getting real kim chi to try this again. Thanks for sharing.
Mix flour, water and salt together and combine with the rest of the ingredients to create a thick "pancake" batter.
Heat 2 Tablespoons oil. Place 1/4 of the batter in the pan to form a pancake. Fry until both sides are golden. Reduce heat to low and cook all the way through.
Repeat with remaining portions.