Kimchee (Korean Vegetable Pickle)
teresas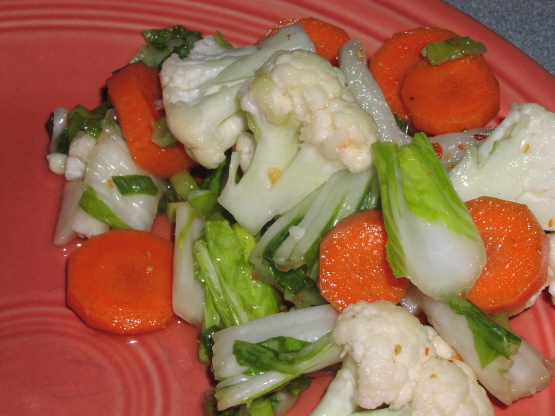 This is a mixture of carrot, celery cabbage and cauliflower and is spicy-hot! Celery cabbage is similar to bok choy which can be substituted. Posted for ZWT 4.

WOW! DH just loved this dish. That doesn't happen often. He did say he thought it should be hotter so next time I will add in more pepper flakes. I also warned him to not add salt... (he loves salt, and he has low cholesterol) lucky guy. I made this with bok choy because, I wasn't sure and really didn't know what Chinese/celery cabbage was. So any way this was worthy of 5 stars (even though "I" thought it was a bit salty.) Thanks for posting. :)
Sprinkle carrot, celery cabbage and cauliflowerets with 2 teaspoons salt; toss. Let stand 20 minutes; rinse with cold water and drain.
Toss drained vegetables with remaining ingredients. Cover tightly and refrigerate at least 48 hours but no longer than 4 days.