Kim Bap (Korean Rice Rolls)
eabeler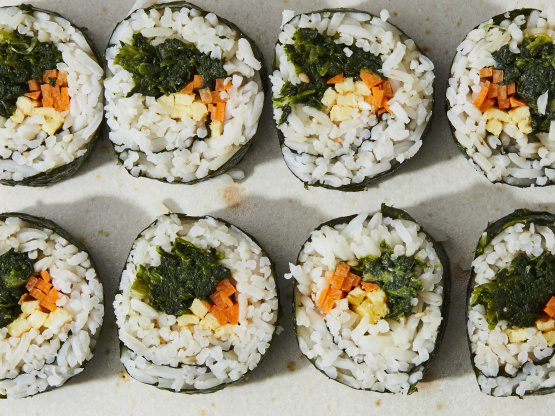 A yummy lunch my mom used to make for me. It can easily be adapted to suit your tastes. Serve with your favorite dipping sauce.

This recipe is great! I ended up using fresh spinach and washing it and squeezing it dry and then cutting it very fine and it worked great. Also, I almost forgot to pick up pickled radish at the market! But so glad I remembered, it adds an extra little element that is lacking in other recipes I've tried; (I've even tried a little bit of sauerkraut in place of the radish in a pinch a couple of times and it was actually pretty good). Thanks for posting this!
Let rice cool a bit.
Meanwhile, mix the rice with the vinegar, soy sauce, and sesame oil.
Fry eggs as if it were a pancake.
Cut egg into strips.
Mix spinach with sesame oil and soy sauce.
To assemble, put rice on a bamboo roller (I do not have one and it works fine, just not as pretty).
Spread rice over 2/3 of the sheet, lay carrots, spinach, and egg on top.
Sprinkle with sesame seeds and roll like a jelly roll.
Cut into 1/2 inch rounds.
You can adapt this to your own tastes, some people put imitation crab meat in them, I put marinated soy bean sprouts and cucumbers in mine, etc.