sprue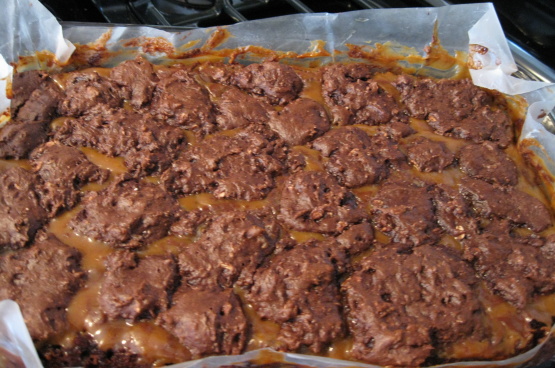 I got this recipe from a good friend of mine and my husband and his co-workers and friends request them constantly! You definitely need a big glass of milk to go with these!

Top Review by sprue
well these were a huge hit and are very rich.. you cant eat too many! definatly need that milk (or water) i threw in a few handfuls of oats in the batter and used more than half of the milk (i wanted to use less in the carmels anyway to make them thicker) worked out perfectly. would also be yummy with nuts! super fast and easy to make mouths start watering at just the sight of these. thanks!
1

(18 ounce) box German chocolate cake mix
3⁄4 cup butter (softened)

1

(4 ounce) can evaporated milk

1

(12 ounce) bag semi-sweet chocolate chips

1

(16 -20 ounce) bag caramels
Preheat oven to 350.
Mix cake mix, butter, and half of the evaporated milk together.
Press one-half to two-thirds of the cake mixture into a greased 9X13 pan.
Bake for 18 - 20 minutes.
While the cake is baking, unwrap the caramels and melt them over med-low heat with the remaining evaporated milk.
When the cake is finished, take out of the oven and sprinkle the chocolate chips over the top.
Pour the melted caramel over the chocolate chips.
Take the remaining cake mix and dot the top of the brownies.
Bake for an additional 13 minutes.