Kill 2 Birds With One Stone Rolls
Krsi Sue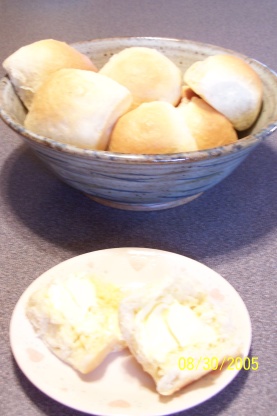 This is a pretty quick way to make dinner rolls. How I kill 2 birds with one stone is by - - use enough dough to make 12 rolls and use the remainder of the dough to make a tea-ring.
Dissolve dry yeast and 1 tbsp sugar in warm water. Allow to stand 8 minutes.
Cream sugar and shortening together.
Add boiling water and beat well.
Add egg and beat.
Add the yeast mixture, salt and 4 cups flour; mix well.
While mixing, slowly add the remaining 2 cups flour, until a soft dough forms.
Spray a bowl with cooking spray, place the dough in the bowl and spray the top of the dough with cooking spray.
Let rise 1 hour.
Punch down and form into balls.
Place balls in greased pan, and let rise 1 hour.
Heat oven to 350 degrees and bake rolls 20 minutes.