COOKGIRl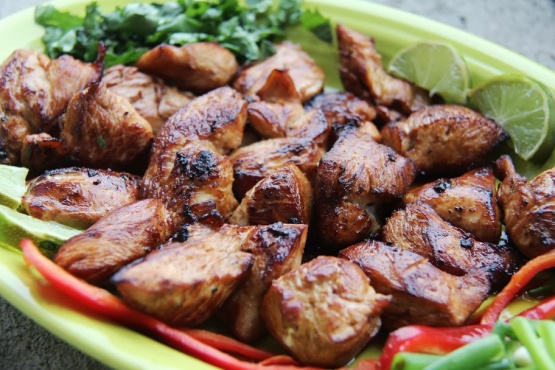 I don't really recall how I came up with this recipe but it's name comes from my step-son's regular request for, "that yummy chicken you make, Nan". So when I finally wrote it down, I named it for him. This is a very simple, savoury chicken, I have yet to have a kid (big or small) not like it, and I've fed a lot of kids over the years :). It's also pretty forgiving, if you don't have an ingredient, improvise, I'm sure that's how I came up with it to begin with. I've started using Bragg's Liquid Soy Seasoning in place of soy sauce.

Excellent & couldn't be any easier! The chicken is full of bold flavors and as mentioned by another reviewer smells wonderful baking. I used skinless chicken breast as it was what I had on hand last night. I also flipped the chicken after 30 minutes so both sides had a chance to absorb that yummy sauce. The sauce is bold in flavor and delicious. Don't be afraid to use the full amounts of spices. Before serving I spooned the reduced sauce on the chicken and sprinkled with green onions and sesame seeds. Served with veggie fried rice. Thank you for sharing this keeper of a recipe! Discovered during Pick A Chef Spring 2011.
Preheat oven to 400°F.
Grease a 13x9 baking dish.
Rinse & pat dry chicken pieces. Place chicken, skin side up, in the dish.
Mix remaining ingredients together, pour evenly over chicken.
Bake, uncovered, for 1 hour.