Pamela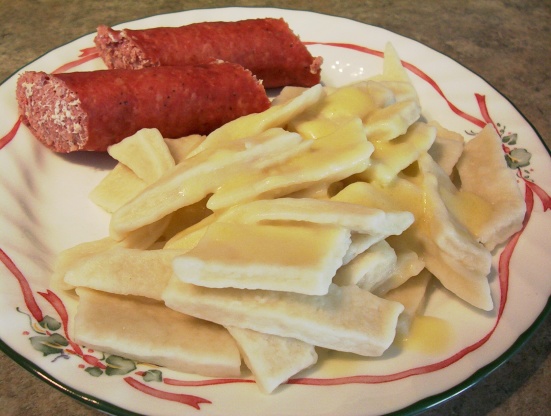 Russian-Mennonite noodles, similar to spaetzle. Good served with farmer sausage.

I too grew up on my mom's and grandma's homemade kielke! They were always a favorite and who knew they were so simple to make!?! I thought my mom slaved over these! Thanks for sharing the recipe, now I can make them myself.
Mix all ingredients together to make a stiff dough.
Knead well.
Roll dough out very thin.
Flour both sides of dough.
Cut in half and form two rolls.
Cut off narrow strips.
Cook for a few minutes in a large pot of boiling water.
Traditionally served with hot Cream Gravy made with 1/2 cup cream and 1-2 tablespoons melted butter and a pinch of salt.