Kielbasa With Potatoes, Peppers & Onions
lazyme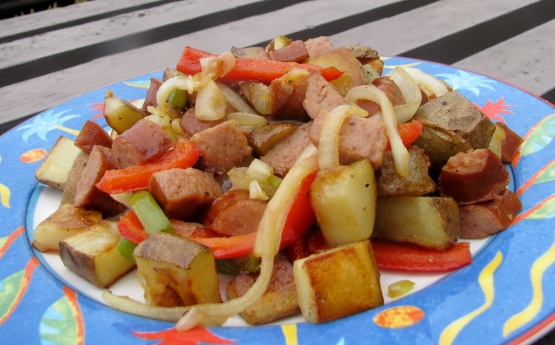 This simple skillet meal is my adaptation of a recipe I found recently at AllRecipes. I can see changing the seasonings to create different flavors from the same basic recipe.
Cut potatoes (scrubbed with skins left on) into bite-sized pieces.
Thinly slice both bell peppers and the onion.
Quarter Kielbasa length-wise and cut into bite-sized pieces.
In a large skillet, heat olive oil over medium heat.
Place Kielbasa and potatoes in skillet. Season with Old Bay and Seasoning Salt. Cover and cook 25 minute or until potatoes are almost tender. Stir occasionally.
Add peppers and onion. Cook 5 minute or until peppers and onion are just tender. Adjust seasoning if needed.