Kielbasa (Smoked Sausage) Roll-Ups
jVo6236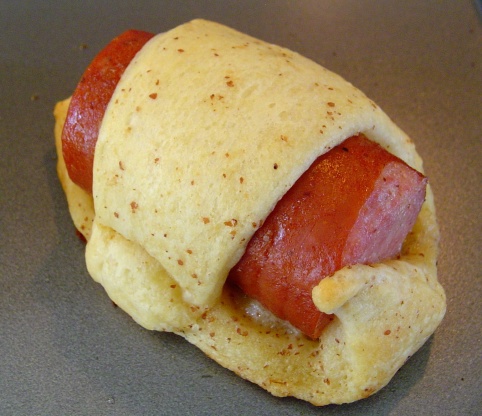 I can't remember where I got this recipe. I just know they're quick and easy and I make them often! Try different mustard blends and add caramelized onion for extra flavor! :-) HINT: Slice each kielbasa chunk into 2-4 discs and lay them down (like fallen dominoes) before rolling them into the crescent roll. Then it's not quite as big of a bite!

These were really great. I modified the recipe a little: I used just 2Tbs butter and melted it with a few spoonfuls of apricot jam, then I used double the dijon-horseradish. They were sticky from the jam, but it tastes perfect with the mustard and the onions. GREAT way to use kielbasa, something different than potatoes and sauerkraut.
1⁄4 cup light butter, melted

1

teaspoon Dijon-horseradish mustard

8

ounces Pillsbury Refrigerated Crescent Dinner Rolls

1

lb kielbasa (Lite) or 1 lb hillshire farm smoked sausage (Lite)

1

medium yellow onion, sliced thin and caramelized in (optional)

1

tablespoon butter (optional)
Preheat oven 350 degrees.
Combine melted butter and mustard thoroughly.
Open package of rolls onto a sheet of waxed paper and separate into 8 pieces. (I use a pizza cutter along the perforated markings for this step.).
Brush each piece with the butter/mustard mixture. (You'll have some left-set aside for last step.).
Add caramelized onions. (Optional).
Cut sausage into 8 equal sections.
Place one sausage on each piece of dough on it's widest end. Carefully roll until the pointed end is on bottom. (Pinch and tuck sides in.).
Place pockets (seam side down) on ungreased baking sheet.
Brush tops with remaining butter/mustard mixture.
Bake 15-20 minutes or until golden brown in color.