Kielbasa, Kale, Tortellini Soup
Maito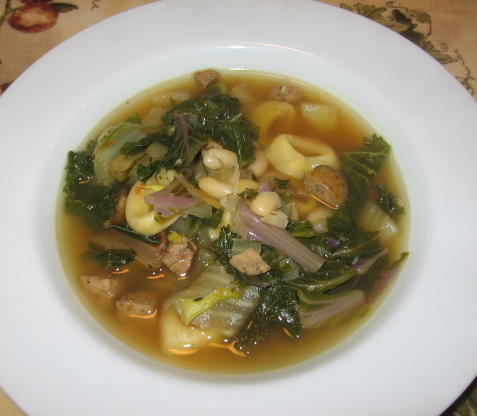 I think this is from Bon Appetit four or five years ago. Warm and comforting...and hearty. A meal in itself with some good bread.

We enjoyed this hearty soup. I used organic kale from the coop. I was unsure if DH would like the kale but he did and I am greatful for that. A new green as opposed to my normal of spinach or chard can now be used. I made the full recipe and we had it for dinner with lots left over. I froze some sans the tortellini and had some for lunch the next day. This is not a heavy soup and I loved that. I usually make a super heavy duty veggie soup but really enjoyed the lightness of this soup. In spite of it's lightness it was quite filling. I did make the tortellini seperate and added some to our bowls b efore serving that way I could freeze it seperate and it would not get soggy in the soup for the reheat. Delcious and a keeper. I cannot wait to make this during the summer months with the kale from the garden. Made for AUS/NZ Swap Feb12
Heat oil, fry sausage until beginning to brown, add vegetables and sauté until tender and translucent—15-20 minutes.
Add broth and bring to a boil, add beans and kale and simmer 15 minutes or so. Add tortellini to soup and simmer until pasta is tender (about 5 more minutes).
May serve topped with some freshly grated cheese.