Swirling F.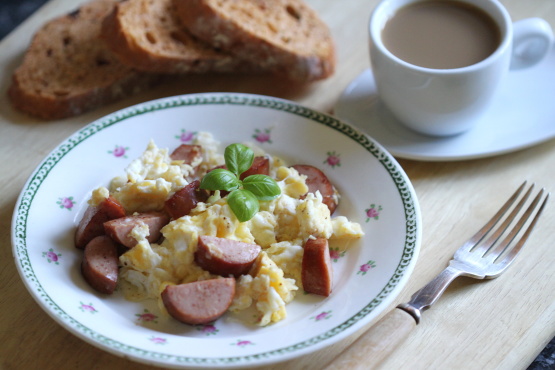 I tried this dish at a Mothers Day brunch, and was pleasantly surprised It was delicious! I have found it is best with just eggs and kielbasa, no onion, garlic, herbs or cheese (and I am a cheese, onion and garlic fanatic!)

I cajun-ized this recipe, and the result was awesome.<br/><br/>I sautéed an onion, then browned some Andouille sausage, then beat some Cajun seasoning into the eggs before adding the eggs to the skillet.<br/><br/>Try it. You won't be disappointed.
Heat a 10" skillet on medium heat, add some butter and the chopped kielbasa and warm them up. Do not brown.
Whisk the eggs with the water.
Turn the heat up to medium high.
Pour in the eggs.
Cook until desired doneness, stirring constantly. Your eggs will be light and fluffy if you do this. Eggs cook very quickly, so this should not take longer than one minute.
Salt and pepper at the table,.