Kielbasa and Cabbage Packets
Bergy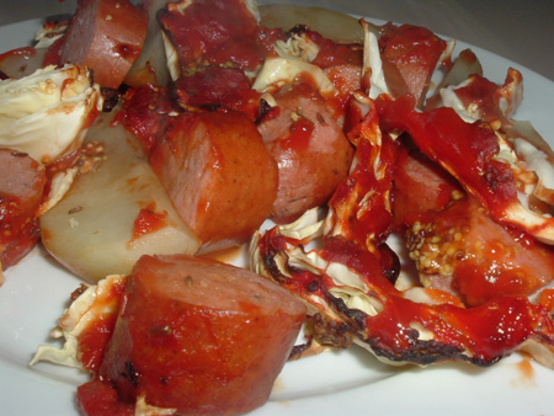 Kielbasa, cabbage and potatoes flavored with ketchup, mustard and caraway - cooked in foil. Perfect for summer meals and no pans to wash! The packets can also be baked in the oven.

Top Review by Bergy
I made this for one person using New Orleans super spicy sausage. The combination of Cabbage, potato & smoked sausage rocks! Love the touch of carway. I lightly covered it for the first 25 minutes then removed the foil and let it finish browning. I felt it needed a bit more moisture so I added 1/4 cup wine at the beginning so there was more steam to cook everything. I will make this again - Thinking of you Lorac Thanks
Preheat grill to medium high.
Tear off 4 18x12 sheets of heavy duty aluminum foil.
Place 1/4 of all the ingredients on each sheet and double fold the edges.
Grill uncovered, 4-6 inches from the heat source, for 30-40 minutes or until the vegetables are tender.