Kidney Beans, Broccoli and Bacon Salad
Ms B.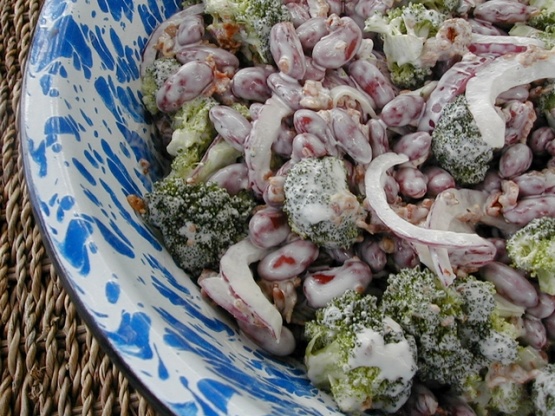 This recipe has been a hit at every potluck, picnic & tailgate party I have taken it to. It goes together quickly and holds up well in an ice chest.
Steam the broccoli until just tender, then rinse until cold water to stop cooking. It should be bright green, not cooked grey! Drain well on paper towels.
Rinse the kidney beans under cold running water, drain well and add to the broccoli in a large mixing bowl.
Slice the onion about 1/8" thick then cut the rings into segments 1/2" to 1" or so.
Cook the bacon until crisp then drain well and coarsely chop.
Add the bacon and onion to the broccoli and kidney beans, mixing well while moistening with the ranch dressing. Don't add so much ranch dressing that it becomes soupy.
Salt and pepper to taste.