Nikoma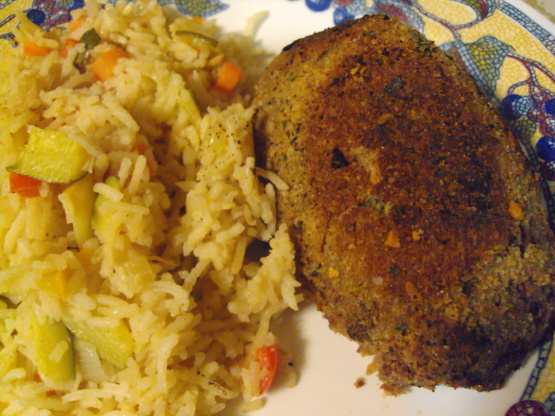 This is a vegetarian recipe but modeled on chicken kiev - a savory bean patty oozing with a delicious garlic butter filling.

Top Review by Nikoma
I've been looking at this recipe for years and saying I'd get to it. I finally did tonight and YES! These are so good! I used Earth Balance vegan butter and enerG egg replacer with some soy milk for the egg. Completely vegan and SOO hearty! For once I didn't need seconds :) I didn't have green chilis. I subbed a few tbsps of orange bell pepper (since hubby isn't a pepper fan anyway) Loved the flavor!. The garlic butter filling makes these extaordinary. After shallow frying I stuck them in the oven for 30 minutes too (they're so dense I wanted to make sure the were heated through).Thanks for sharing this! Sorry the pic isn't the best. Bad kitchen lighting :/
Kidney Bean Cakes

3

cups red kidney beans, boiled (or may use canned)

3

cups white breadcrumbs, fresh

3

tablespoons butter

1

leek, chopped

1

stalk celery, chopped

2

tablespoons parsley, chopped
1⁄2 onion, finely chopped (or green pepper)
1⁄2 teaspoon cayenne pepper

1

egg, beaten
oil, sufficient to shallow fry

Garlic-Herb Filling

4

ounces butter, softened

2

tablespoons parsley, chopped
For the garlic-herb filling, blend all the ingredients for it and chill until ready for use.
Melt butter and saute leek and celery.
Mash the beans until fairly smooth.
Stir in half of the breadcrumbs till well incorporated.
Add the bean mixture to the leek and celery, add parsley, green chillies, onion, cayenne, salt and pepper and combine well.
Divide the bean mixture into 4 balls.
Make a slight depression and insert a slice of garlic-herb filling into the patty; and then mold the mixture so that the filling is completely enclosed.
Coat the patties in the beaten egg and roll generously in the remaining breadcrumbs.
In a heated skiller, shallow fry the patties for 8-10 minutes until they are golden brown.
Variation: Instead of a garlic butter filling, you may opt to use a chunk of mozzarella, for a more cheesy variation.