Parsley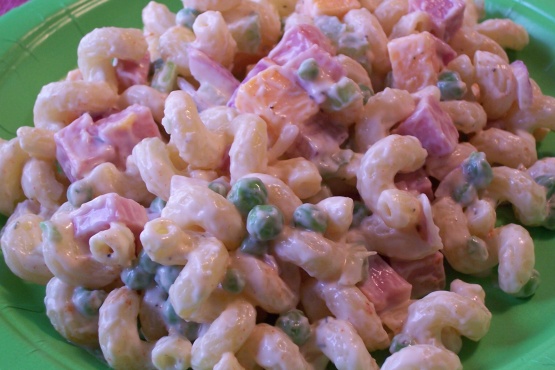 This pasta salad is a favorite among kids. I make it with odd-shaped pasta shapes like wagon wheels, fiore (flower-shaped), cellentani ("squiggly"-shaped), or sometimes just plain old elbow macaroni.

We very much enjoyed this pasta salad. I used 1 tblsps minced, fresh dill rather than the dried, but made no other changes. The dressing was very nicely balanced, with just the right amount of tart to sweet. This would be great to take along on a cookout or picnic.
In a large mixing bowl, toss together cooled cooked pasta, celery, onion, peas, ham and cheese.
In a small mixing bowl, whisk together mayo, vinegar, sugar, mustard, ketchup, salt, pepper, dill and paprika until well-blended.
Pour mayo dressing mixture over salad mixture and stir to coat well.