alligirl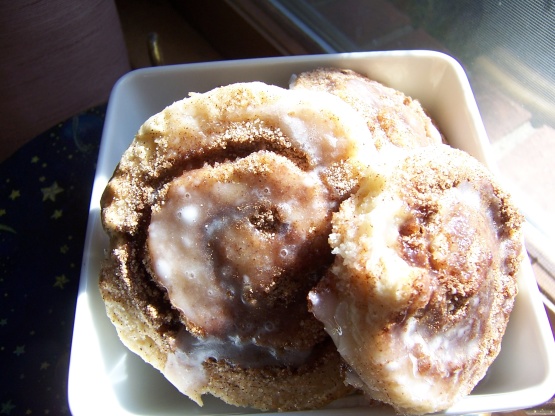 My daughters attend cooking classes and one day they came home very proud with these cinnamon rolls. They are really, really good and easy enough that smaller kids can be part of the action. The recipe just states 'a mixture of sugar and cinnamon', the amount of cinnamon will depend on how 'cinnamon'ey' you want the rolls. The 2 tbsp in the recipe is a best guess.

This truly is a wonderfully easy and super tasty recipe!
The rolls come out flakey, sweet and yummy! Mmmmm, my sis and me immediately had to devour a few of them. :)
The instructions were easy to follow and everything came together very quickly.
I made half the recipe and ended up with 8 rolls instead of 12.
Following Azparzych's review, I too added a tbs of sugar to the dough and in the filling I simply used a few tsp of the cinnamon and sugar mix. The full amount stated would have been too sweet for us, but I guess if you like it that way youll get a nice caramel in the pan.
THANK YOU SO MUCH for sharing this amazing recipe with us, Deantini! Ill make it again and again.
Made and reviewed for 1-2-3 Hit Wonders September 2010.
Preheat oven to 400°F.
Cut butter into flour, add baking powder and salt and continue cutting until the mix resembles coarse crumbs.
Stir in just enough milk until the dough leaves the side of the bowl and forms into a ball.
Turn dough onto a slightly floured surface and knead approx 10 times.
Roll the dough using a rolling pin into a rectangle 1 inch thick.
Brush dough lightly with milk until sticky. Sprinkle with the cinnamon/sugar mixture, leaving 1-2 tbsp aside.
Starting from the long end roll the dough into a cylilnder with a spiral of cinnamon/sugar inside.
Slice the cylinder into 1 inch thick pieces.
Place the pieces on a cookie sheet lined with parchment paper, sprinkle remaining cinnamon mixture on top.
Bake until golden, approx 8-10 minute.