Kid Pleasin' Teriyaki Chicken
Cricket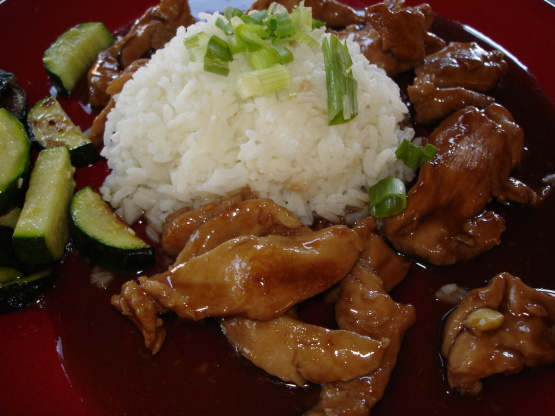 Having lunch problems? You're worries are over! I am the pickiest kid in America about lunches. This recipe satisfies my mom and me. However my friends weren't as happy, a sandwich just doesn't compare to this dish... Double the sauce ingredients to have lots to go around!

hey a new family fav! thank you! I used apricot preserves this tm, however, I plan to prepare this dish each tm w/every selection of sauce offered up. the family is REALLY looking fwd to the plum sauce (found in the Asian isle of the supermarket). I made a few changes due to availability: ground ginger vs fresh, coconut oil vs veggie, low-sodium soy sauce vs the everyday & 4 tsp of bottled minced garlic vs fresh garlic. thanx for sharing!
Marinate chicken slices with 1-2 teaspoons soy sauce, while assembling sauce ingredients in blender or by hand.
Heat oil in large frying pan or wok over high heat.
Saute chicken about 2 minutes or until cooked.
Add sauce and bring to boil.
Stir until thickens (just a couple of minutes).
Serve with Steamed white rice and garnish with chopped green onions.