Kid Friendly Fondue-Regards, --Tasty--
COOKGIRl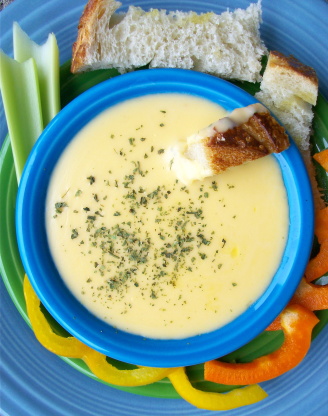 You don't need a fondue pot to prepare and serve this dish, but it would make for a fun and interesting conversation piece with your children at the dining table. It may also be worth it to you to dust off your old fondue pot from the basement or look for one cheaply at a second hand store. A mild cheddar cheese will work in this recipe, too and if you don't have roasted garlic on hand, just go ahead and add a small pinch of salt-free garlic powder.

Thank you for a recipe (and dipping suggestions) that my children were happy with! I knew that if I put any wine into my fondue they would not like the taste, so this was a perfect combination. I actually used some cheese cubes that we had leftover from a party tray, so my mix consisted of swiss, colby, cheddar, mozzarella, and just a few cubes of pepper jack for kick. We will definitely make this one again!
Fondue

1

cup milk

1

roasted garlic clove, smashed

1

lb monterey jack cheese, coarsely grated (don't buy the pre-grated cheese)

2

tablespoons flour

Dipping options

tiny boiled new potato
cooked pasta (corkscrew, bowtie, "wagon wheels", etc.)
bread cubes (French, whole wheat, multigrain, etc.)
lightly steamed broccoli spears, zucchini, celery, asparagus, bell peppers, carrots or snap peas, cucumber, etc
Heat the milk and the garlic in a saucepan over medium-low heat until simmering, 2 to 3 minutes.
Toss the cheese and flour together in a bowl until the shreds are nicely floured.
Whisk the cheese mixture into the milk a handful at a time, waiting until each handful melts before adding more. Whisk until cheese is completely melted and mixture is smooth and velvety.
Holding the food with *fingers, a fondue fork or a regular fork, dip one or several of the options into the pot and swirl to coat with the cheese.
I added a light sprinkle of dried parsley to the top of the fondue.
WARNING!: [[[*Careful! Don't want the children to burn their fingers!]]]. Preparing and serving the fondue requires adult supervision.
Note: servings are estimated.