Kid-Friendly Brussels Sprouts
Kim127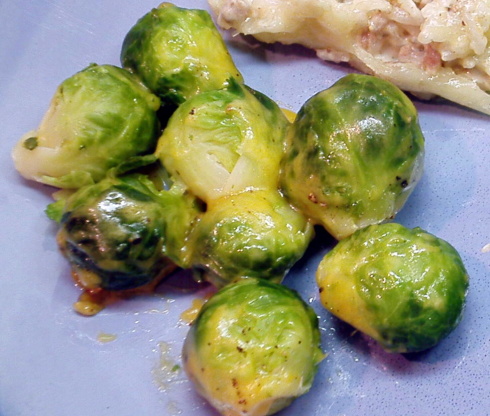 This is the ONLY way I can get the rest of my household to eat brussels sprouts (I think I am the ONLY one who loves these things). ;) Great for a quick work night side dish - easy and healthy too. Sometimes I add Johnny's Salad Elegance, but usually the straight-forward simple recipe does it best on this one for the kids.
I steamed the brussels sprouts and then added the cheese and melted in the microwave. It was great. Simple but very good. Thanks Chelle :) Made for your cook-a-thon :)
Place brussels sprouts in a medium microwave safe dish with a small amount of water to barely cover the bottom of dish (approx. 2-3 oz).
Cover with plastic wrap and microwave on high for 4 minutes (may vary depending on your microwave).
Vent carefully to avoid steam burn, sprinkle with pepper if desired and cheese then replace plastic wrap and heat again on high power for another 3 minutes or so until cheese is thoroughly melted.
Serve immediately and enjoy! ;).