loof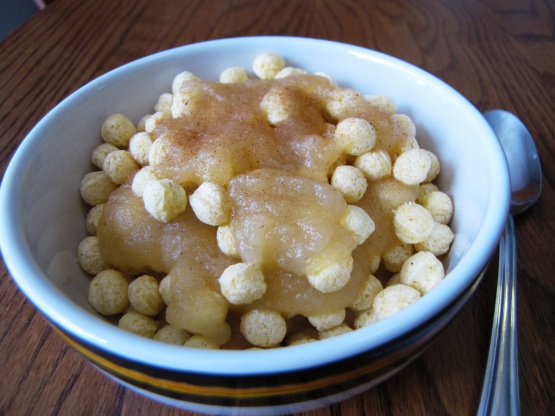 I think this recipe rocks. It creates a great cold or warm dish that is super simple and rather healthy compared to what other options are out there these days.

Top Review by loof
What a tasty and unusual way to start the day! I thought this would be good but was pleasantly surprised by how much I liked it. I think your applesauce-to-cereal ratio is right on. I used sweetened applesauce and did sprinkle mine with a bit of cinnamon. I made 1/4 of the recipe and it was plenty for a nice filling breakfast - thanks for sharing your recipe! Made for Spring PAC 2010
4

cups Kix cereal

2

cups applesauce (sweet or unsweetened)

1

teaspoon cinnamon, if desired
Take your cereal and place a cup in a container.
Add portions of your apple sauce over each layer of cereal.
If you like a lot of sauce then you can increase the apple sauce or if you like a little more crunch and less sogginess than vice versa.
Let the concoction sit to moisten or eat it right up.
I have had it chilled, warmed, and room temperature. It all depended on mood and what I craved.
Cinnamon is optional. I also think that if you want extra sweet apple sauce it would not be a problem to add sugar.
Enjoy!