Rita1652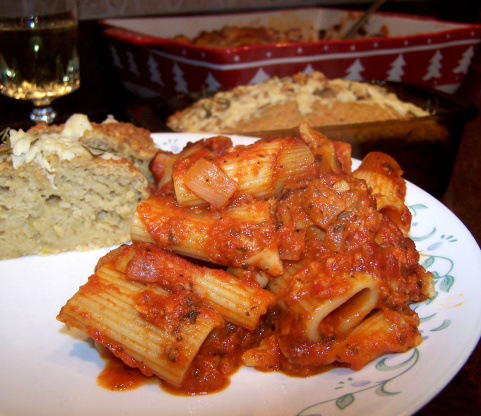 Kicking! YES! I used 2 pounds of sausage, 1 large onion, 10 ounces mushrooms. To that I added 4 pounds sauce kicking it up with garlic, parsley, oregano and pepper flakes. Then I removed 2 cups of the sauce after simmering for 15 minutes, for pizza the next day and used the rest for this recipe. I stirred in undercooked pasta because it will continue to cook in the oven. I did use all the mozzarella in the toss of pasta and sauce then added an additional cup for the topping. DH said Ohhh Yeah>>>>>> That being said thanks for the 5 star meal!
Preheat oven to 375 degrees.
Cook sausage, onions, and mushrooms until meat is browned. Drain off fat.
Add both tomatoes to meat mixture. Bring to boil, reduce heat and simmer for 15 minutes uncovered. Stir in cooked pasta.
Stir in 1/2 of mozzarella cheese and all of parmesan. Toss well.
Pour into 9 X 13" pan. Top with remaining cheese. Bake for 20 minutes.