Bergy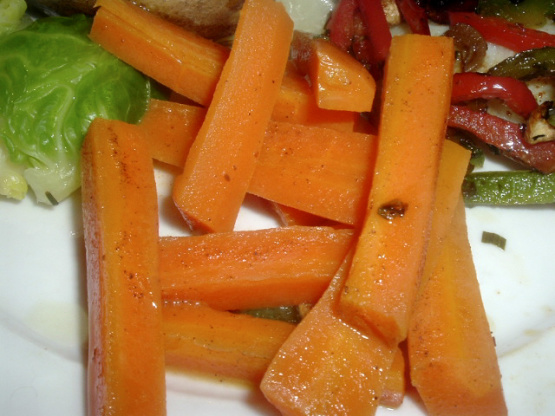 These carrots are a must at your next turkey dinner or any dinner!... I have made them many times, and everyone loves them! Make certain to quarter the carrots lengthwise, the cut them into about 2-1/2-inch pieces. It makes for a really nice presentation. You will love these! If you are a cayenne fan, then add in more to taste. The combination of spices will bring the carrots to a next level! If you are feeding more than 5-6 people, then I suggest to double the recipe.

These spicy little guys were a nice change of pace from the usual glazed carrots. I halved the recipe and it worked out fine. I used only 1/4 cup of water, but I might use a little less next time. By the time the glaze cooked down, my carrots were a little softer than I like them. But I might like them with a little more crunch than most.
Quarter carrots lengthwise and then cut into about 2-1/2-inch pieces.
Heat butter in a heavy skillet over medium heat.
Add in the carrot sticks and sauté uncovered for about 5 minutes, stirring occasionally until just slightly softened.
Add in brown sugar stirring until the sugar is dissolved and melted.
Stir in water, lemon juice, salt, cinnamon and cayenne; toss to combine and simmer covered until the carrots are desired tenderness and the liquid is reduced to a glaze (about 8-10 minutes).