Kick the Winter Blahs Salad (Kale and Beets)
Rita1652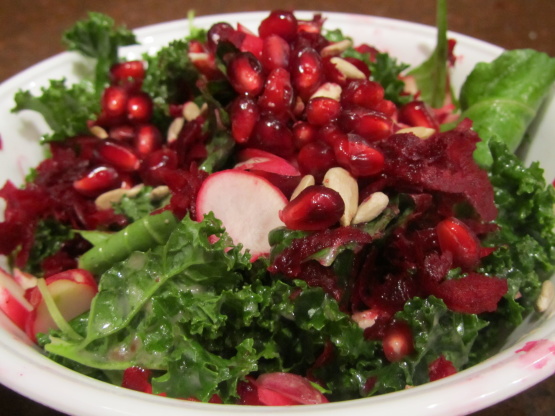 Recipe torn out of a magazine. . .perhaps Rachael Ray March edition??? Sounds great for any time of year to me!

I just so loved this! JanuaryBride you did good! I fresh picked kale beets and radishes from the garden. OK, my radishes were the ones I thinned from the rest. But they were delicate and tender. Beets just enough for me, because DH won`t eat them. I did use sunflower seeds in place of the pumpkin seeds. My first photo is what I was going to eat, but when I opened my fridge out fell a pomegranate that burst open so of course I went and placed some on the salad to a very tasty delight. So good I ate half the salad! Thanks!
In a large bowl, combine garlic, jam, mustard and vinegar. Whisk in the oil.
Add kale and toss to dress.
Sprinkle with the beets and seeds.
Season with salt/pepper and toss one more time to distribute dressing.
Top with radishes and set out on the table.