Kick It up a Notch Macaroni and Cheese
Nimz1466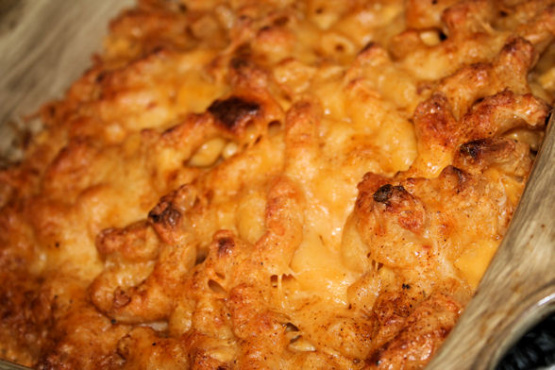 Homemade super cheesy mac and cheese with a spicy bite to it.

Perhaps it's not fair to give it 5 stars since I didn't follow the recipe exactly, but it turned out so darn good, I couldn't give it less. I browsed so many recipes looking for one that I didn't have to make the cheese sauce separately and dirty another pot. The steps in this one suited me fine. My changes were to the boiled, drained noodles I added a whole 8-ounce bag of shredded sharp cheddar, a half of a bag of another and a half of a bag of shredded mozz; which was what I had in the fridge and I totally forgot the jalapeno. I didn't top it off with cheese; all my ingredients were mixed in, then poured into a grease-sprayed 9x13 pyrex dish. This turned out to be sooooo creamy and has become my go-to recipe for home-made mac and cheese. Next time I will try it with a kick. Thanks for submitting.
Cook elbow noodles according to directions.
While the pasta is cooking cut 16 oz block of cheese into small cubes and slice the Velveeta into pieces.
Drain the pasta when done, do not rinse.
Return the pasta to the pot; add butter, milk, cheese cubes and slices to the hot pasta. Mix well until the Velveeta is melted.
The mixture will be soupy and the cubes of cheese will not be melted completely.
Add the peppers and salt and pepper to taste.
Pour in baking dish. Cover with the 8 oz of cheddar that has been shredded.
Bake at 350°F for 35 minutes. Top should be browned and pasta should be set.