Khubz Maghrebi (Moroccan Bread)
loof751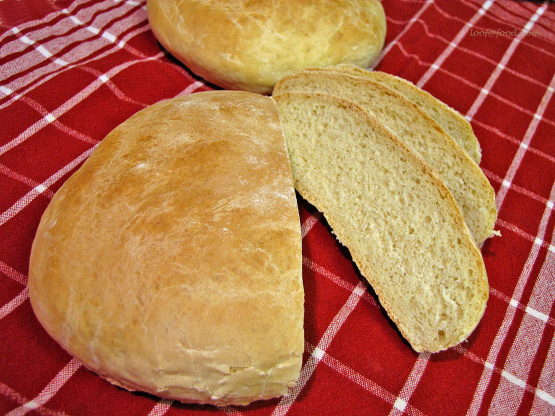 Traditional recipe of Morocco. Time listed does not include proofing time.

This makes a wonderful, dense bread - perfect for serving with soups or stews! I made half of the recipe and made 2 loaves. I used a stand mixer and ended up with a lovely dough that wasn't sticky or dry. Cooked up perfectly just as you described. Great recipe - thanks for sharing it! Made for ZWT9, The Apron String Travelers
Dissolve yeast in 2 1/2 cups warm water in a large bowl. Weigh or lightly spoon flour into dry measuring cups and level with a knife. Stir salt into yeast mixture. Gradually stir in 7 cups flour, one cup at a time, and beat with a mixer at medium speed until dough forms a ball.
Turn dough out onto a lightly floured surface and shape dough into a 12-inch log. Divide dough into 3 pieces then shape each piece into a 4-inch dome-shaped loaf.
Place loaves on a baking sheet lightly covered with flour. Dust tops lightly with 2 teaspoons flour, and lightly coat with cooking spray. Cover and let rise in a warm place (85F), free from drafts, 1 hour or until doubled in size. (Gently press two fingers into dough. If indentation remains, dough has risen enough.).
Position oven rack in lower third of oven. Preheat oven to 350°F.
Uncover loaves, and brush each with 1 teaspoon oil. Bake at 350F for 30 minutes. It should sound hollow when tapped (bread will not brown). Remove from oven and cool on wire racks.