Khubz Arabi (Pita or Flat Bread)
gailanng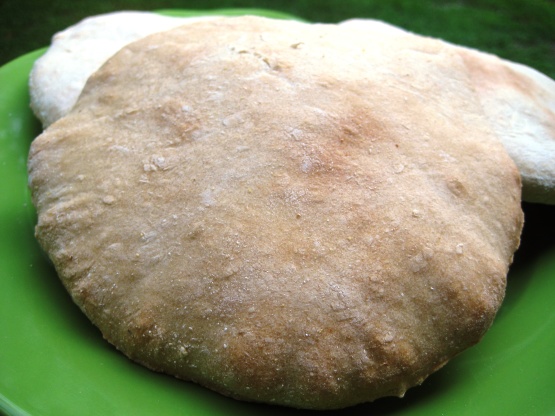 These are Excellent! This recipe takes some time to accomplish, but the end result is a little magic in the kitchen and so satisfying as a cook! The cooking time is per batch - this makes 24 and you'll probably have to do at least 4 batches in your oven depending on the size (of your oven). At least, much of the prep time is inactive time while waiting for the dough to rise. All in all, they are pretty easy to make (if not on a time schedule).

This was not just bread baking, but an adventure! Never had I made pita's before and so wanted to give my hand a try at it. My lessons learned: Patting the dough into circles, instead of rolling is easier and doesn't stick to the counter. Handling the dough too much results in a flatter pita. Pat the rounds thinner than you would think. A higher oven temperature encourages the 'puff daddies' that I so eagerly desired. Better overcooked than undercooked. Mine probably looked and tasted more like an artisan bread, but in time I have every intention of perfecting my technique. Now, I'm off to find something to fill them with. Made for Everyday Is A Holiday.
In a large bowl, scatter the yeast over the warm water and stir until dissolved.
Add the salt.
While kneading constantly, gradually add 6 cups of flour and 2 tablespoons of oil until the dough is smooth and elastic. Continue to add more flour if the dough still sticks to your hands.
Put the dough into a large, greased bowl and turn dough to grease all sides of it.
Cover with a dry tea towel and let rise in a warm place until doubled in size, about 1 1/2 hours.
Preheat oven to 375-degrees F.
Punch dough down gently.
Divide the dough into 24 equal portions and shape them each into smooth balls.
Place on a floured surface and dust tops lightly with flour. Cover with a dry tea towel.
Let rest undisturbed 15 minutes more.
Roll out each ball into a 6-inch diameter circle.
Place on greased baking sheets.
Bake in 375-degree F oven for 10-12 minutes or until the bread puffs. Do not leave baking unattended.
YUM!