Khoshaf -- Dried Fruit and Nut Compote (Iran -- Middle East)
Debbwl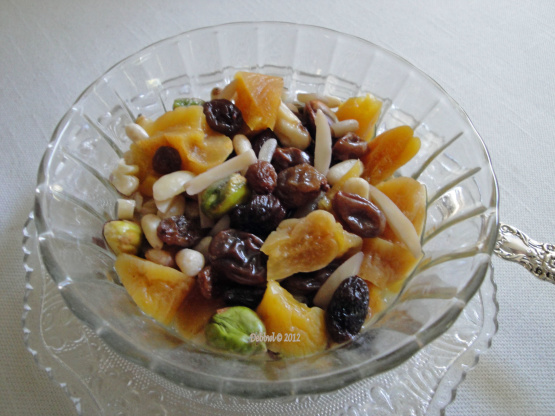 This recipe of soaked rather than stewed dried fruit was found in the 2002 cookbook, Mediterranean Street Food. Almost all of the long preparation time is the PASSIVE time needed for the fruits & nuts to soak.

Top Review by Debbwl
Very enjoyable! This makes a very satisfying dessert that is great on its own or would be good with yogurt or ice cream. I made as written although I did snip my apricots so that everything was about the same size. Also made using the suggested times (really liked), but next time just to compare how the time effects the recipe may try other reviews suggestion of using whole almonds and overnight soak time. Highly recommend this nice healthy dessert, thanks for the post.
Rinse raisins & dried apricot halves under cold water, then place in a bowl, cover with 1 quart of cold water & let soak 2-3 hours.
Put nuts in a bowl & cover with boiling water & let soak 45 minutes to soften them & freshen their taste.
Transfer fruit & its macerating liquid to a serving bowl, then add the sugar & orange blossom water. Stir until sugar is dissolved.
Rinse & drain the nuts & add to the fruit, mixing well.
Serve immediately or refrigerate.