Khasta Aloo (Spicy Pan Fried Potatoes)
SpicyDoc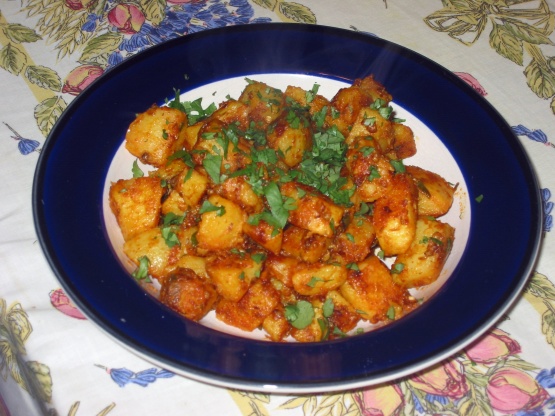 Interesting variation on basic pan fries. Vary the hot stuff to taste. Ghee is definitely preferred but use oil/butter mix if you are stuck. Found the recipe on an Indian mail order website (www.indianfoodsco.com). Prep time assumes you have some potatoes cooked and room temperature already.

These were quite good! Made them for dinner last night. I wasn't convinced the potatoes would hold together, nor was I so sure I could get a crust to form, but everything turned out fine! Okay, some of the crust fell off the potatoes but that was okay since I like spicier stuff than my BF so I just ate that part myself:D BF liked his potatoes very much too. I did not have cumin seeds so I used cumin powder and don't know about ghee so I used oil and butter. Only used 1 jalapeno pepper, next time I would use more. Thanks very much Spicy Doc!
Heat ghee in large non-stick pan until shimmering (I have the pan on full-blast for most of this recipe).
Add cumin and stir until fragrant.
Add coriander, tumeric, ground chile, green chile and ginger and stir, making a hot paste.
Dump in potatoes and toss until coated on all sides (will be fairly dry).
Move around into one layer and leave alone for a minute, allowing some crust to form. Turn and repeat until crusted to your liking.
Remove from heat, squeeze lime juice over top,sprinkle salt and toss to blend.
Pour into serving dish and garnish with cilantro.
Serves 4 but I just ate most of it as a lunch.