Khabeesa (Omani Breakfast Item)
loof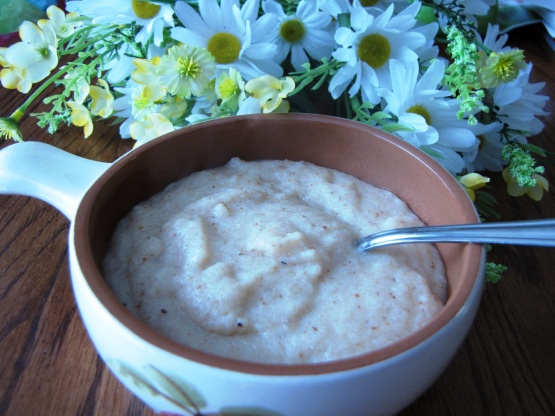 I found this on the Desitwist website, and I wanted it to complete my A to Z collection of recipes (my Around the World Cookbook). Also known as Farina, Sameed, Cream of Wheat. Serving size is a guess. I definitely recommend a nonstick saucepan. This worked fine with fat free milk and "quick" farina. If you are not used to cardamon, you might want to reduce the amount.

Made this for January Tag Game - 2011 and really enjoyed it. DH, not so much. He said "there's a funny taste" I personaly loved it but my suggestion is if you arn't used to the rose water, go easy on it. I did make it with cream of rice as that's what I had on hand and then followed the recipe. Served with a sprinkling of sugar, pat of butter and DH added milk to his. I'll be making this again, but only when it's me.
Combine all of the ingredients in a sauce pan. Bring to a boil. Reduce heat to the lowest level and simmer for 10 minutes, stirring occasionally.
Serve warm in individual bowls or on small desert plates. Drizzle with butter, if desired.